Dr. Ron Flater, DVM
After graduating in 1982 from the Western College of Veterinary Medicine in Saskatoon, I practiced for 9 years in Central Alberta. My wife Sandy and I soon became tired of the long, cold winters and in 1991, so we decided to move to Lumby. The following year I opened "Flater Veterinary Services" and practiced out of the small white house beside the Snac Shack until April 2012. At that time, I was the only DVM. Then, I moved the practice to our wonderful new location in the old Bell Pole Building. Before our move, I decided to rebrand, and change the name of the practice to "White Valley Veterinary Services".
I am getting to the age where retirement is a consideration, but I am having too much fun to stop now. Having Dr.Perry as part of out team has expanded our range of services and given me some time to enjoy life outside of the clinic. When I am not working I enjoy spending time with my granddaughter Reyna, riding my horse Rusty, motorcycling, fishing, cutting wood and spending time in my vegetable garden.
Dr. Jeanette Perry, DVM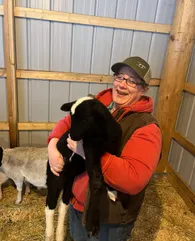 I'm a 2004 graduate of the Atlantic Veterinary College in Prince Edward Island, my home province. After graduating, I worked for 2 years in a mainly pet practice in the Queen Charlotte Islands before moving to Illinois and Missouri to do further training in Large Animal Internal Medicine. I was then lucky enough to work for 4 years in Roseworthy, South Australia teaching cattle medicine at a Veterinary and Agricultural college. I've been really happy to have the chance to move home to Canada and land in another beautiful part of the world!
In my time off, I like riding my horse Reba, my old motorcycles and mountain bikes; camping, fishing and spending time with my Fox Terrier, "Gus", my BC local Cattle Dog, "Clover", and an assortment of chickens kept more for entertainment that anything else.